The PGA Tour heads to TPC Craig Ranch in the Dallas suburb of McKinney, Texas this week.
K.H. Lee won last year's AT&T Byron Nelson for his first career PGA Tour title. Which players are the favorites this time around? Who offers good odds? And what props are worthwhile?
"America's caddie" Michael Collins, betting analysts Chris "The Bear" Fallica and Anita Marks and sports betting deputy editor David Bearman offer their tips to help you win this weekend.
Odds courtesy of Caesars Sportsbook unless otherwise noted.
---
Bets to win
Collins' pick: To win (18-1)
Other than his missed cut at the Masters, Burns has been on a bit of a mini-heater with three top-t0s in his last five starts, including a win and a runner-up (in the team event in New Orleans). Combine that with his runner-up finish here last year and it equals a guy who's comfortable on this course and playing good golf. That's a combination golf gamblers should be drooling over at 18-1!
Bearman's picks: To win (18-1); top-10 finish (+225)
This event might be among the hardest to handicap all year for a variety of reasons, but mainly because the course has only hosted once, and it's a stacked field on an easy track with stars using it as a tune-up for next week's PGA Championship up the road in Tulsa. Burns finished second here last year, finishing three shots behind Lee. I'd be foolish to say this was the one reason to take Burns, as that was only a one-year sample against a weak field in 2021. However, with a winning score likely in the -20s on the wide-open, large-green course, birdies are a must, and Burns is seventh on tour in birdies made and birdies-or-better percentage. He also has the overall game to win this event, no matter how the course is playing, coming in 10th in total shots gained, 18th tee-to-green and 11th in strokes gained on approach, which should factor in this week, as you have to hit the greens to score and you need to score at TPC Craig Ranch.
I haven't even mentioned how good Burns has been overall, finishing second with teammate Billy Horschel at the team event in New Orleans and winning the Valspar in March. He also won the Sanderson Farms in October, which was another easy track like this one, and has six top-10s on the year. I expect Burns to score and keep pace with the rest of the field this week and be in contention over the weekend at 18-1 odds.
Marks' pick: To win (20-1)
This could be the week Zalatoris claims his first PGA Tour win. He knows TPC Craig Ranch better than most, considering he grew up playing this track and has logged over 100 rounds. His metrics fit perfectly for what is needed to win this Sunday; he is first in strokes gained on approach and top five in strokes gained off the tee over his last 24 rounds.
Bearman's picks: To win (20-1); top-10 finish (+230)
Someday soon, maybe right here near his home city of Dallas, Zalatoris is going to join the ranks of PGA Tour winners. Since gaining his full-time card last season, Zalatoris has 13 top-10s and two runner-up finishes, including earlier this year at Torrey Pines against a stacked field. The combination of an easy course with some using it as a major tune-up makes TPC Craig Ranch ripe for a first-time winner, and I can't think of anyone more ready. His last three events: T-4, T-6 (Masters), T-5. You have the runner-up at Farmers Insurance in January and a T-6 the week before at the Amex. He's second on tour in tee-to-green and on approach to the green, and 11th in shots gained total. His putter has held him back many times and prevented the maiden win, but if he just putts average this week, he could change that. I also wouldn't be surprised to see his first win next week at the major.
Fallica's picks: To win (35-1); top-10 finish (+375)
I'm not one to use short prices and big names the week prior to a major, so we'll see if my approach pays off. Gooch checks a lot of boxes this week as he's the co-leader on tour in par-3 scoring and top five in par-5 scoring. There are a lot of different ways to attack this course, and the Oklahoma native does many of them very well.
Fallica's picks: To win (45-1); top-10 finish (4-1)
Champ had been struggling much of the year with a wrist injury and has missed the cut in five of his first eight starts. But like many of us, the sight of Augusta National healed all, as he posted a top 10 there and then lead the field in strokes gained off the tee in Mexico, where he finished sixth.
Collins' pick: To win (60-1)
If golf is all about trends, then this guy should be on a bunch of people's radar. Griffin finished T-15 in Mexico, then T-6 last week at Wells Fargo, and this was coming off missing three cuts in four starts previously. Find something in his swing that's working? I'd say so. The 60-1 odds to get his second career PGA Tour victory at a non-major event where so many are focused on prepping for Tulsa is a good bet.
Bearman's pick: To win (90-1)
As noted above, we only have one year of data on TPC Craig Ranch since the event just moved here for 2021. However, we also know that Palmer is a local fan favorite and has a membership at the course, owning the course record of 61 (not in PGA Tour play). This long shot pick is not based on any metrics or resent results, but at 90-1, it really doesn't have to be. Palmer knows the course as well or better than anyone in the field, giving him a leg up. He also held the 36-hole lead at the nearby Valero Texas Open a few weeks back before a rough weekend.
Props
Sam Burns
Marks' pick: Top-5 finish (+450); Tourney matchup (-110 at DraftKings) over Xander Schauffele
Burns is looking for his third win on the season and has a great track record at TPC Craig Ranch (including the tournament course record of 62). Burns is a birdie machine, his putting is on point, and he is top four in par-3 scoring from 200-plus yards, which will be a great advantage.
Ryan Palmer
Collins' pick: Top-5 finish (16-1)
What would a native Texan need to keep some momentum going after a T-18 finish at the team event in New Orleans a couple weeks ago? How about a home game in Dallas! While Palmer hasn't had a great year thus far — he is 138th in the FedEx Cup Rankings — all he needs is a solid week with the putter. I like Palmer this week for a top-5 finish because his ball-striking has been OK and he has the veterans' mentality to allow the putter to happen instead of trying to force it (which never works).
Bearman's pick: top-10 finish (+120)
At this point, with the way the world No. 1 is playing, betting him to be in the top 10 at plus money seems like an auto play. We could list all the stats and accomplishments, but we don't want this to be 10,000 words, so for the Cliff's Notes, we will start with the fact that he has won four of the last six non-team events he has played in, including the Masters and WGC-Match Play. He finished T-7 in one of the other two events, so five of six are T-7 or better. He's also a Texas native playing close to home who won in Austin in March. Until he slows down or the price becomes minus money, consider me on the Scottie express each week. I should play him to win at 9-1 as well, but he can't win every event, right?
Marks' pick: Top-10 finish (+450)
Hadwin checks three key metrics when evaluating what wins at TPC Craig Ranch: Strokes gained on approach, birdies or better and par-3 scoring from 200-plus yards; he ranks in the top five in all three over his last 24 rounds.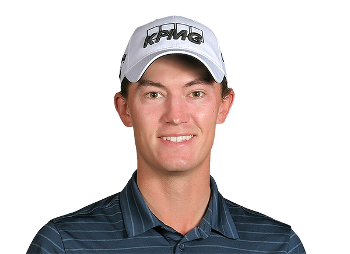 Marks' pick: Top-20 finish (+165)
TPC Craig Ranch is just the right course for McNealy to dominate. He makes a ton of birdies, is aggressive in par-5 scoring and has missed only one cut this season.
Marks' pick: Top-20 finish (2-1)
Vegas is top five in par-5 scoring because of his distance advantage and tries to reach the par-5 greens when the opportunity is right. That will be a huge advantage on this track. Vegas finished ninth here last year and has finished in the top 18 in each of his last three starts, so he is in excellent form at the moment.
Bearman's pick: Top-20 finish (2-1)
Vegas finished ninth here last year with three scores in the 60s. He comes in after T-15, T-18, T-4 finishes and ranks 21st in approach. With so many different ways to score on this course, Vegas being 10th on tour in driving distance won't hurt his chances.
Collins' pick: Yes, playoff to decide winner (+310)
2017 was the last time there was a playoff at this event, Billy Horschel beat Jason Day, so we're a bit overdue. This is also the second time the event is being held at TPC Craig Ranch, so guys will be familiar with the course. That means more guys in the mix over the weekend and a better chance we see "extra play" Sunday late afternoon!
Matchups
Sam Burns
Fallica's pick: Tourney matchup (-110 at DK) over Schauffele
Burns nearly won here last year and has been pretty consistent all season. Schauffele, on the other hand, has scuffed around on the fringes and needed a team event to break his winless drought on that technicality. Burns' success here last year and his well-rounded game — 10th in total strokes gained — makes him a must-play in this matchup.